I had the pleasure of spending some time last weekend hanging out with some old friends of my parents. They are getting ready to celebrate their first grand child's first birthday asked for some ideas about a good gift for the occasion and it got my thinking cap going. Granted, they were working around some pretty tight guidelines (no clothes, no toys and no books) and I wasn't able to come up with too much, but here are a few things that I came up for those who don't have such stringent restrictions:
1.
Cozy Coupe
– hands down Lucan's favorite present he got when he turned one. I love that the newer ones come with a removable floor board so littler kids won't fall out the bottom. Perfect for parents who are going to be the ones pushing the coupe around until the child is old enough to move the car with their feet.
2.
Melissa and Doug
puzzles
. Actually most of their toys are fantastic. I love the workmanship, the
story behind the company
and quality of their products. The majority of their toys has some sort of education spin to them and made out of wood. Love, love, love.
3.
Ball Popper toy. It's noisy and throws balls into the air. Lucan thinks this toy is the best and whenever we're someplace that has this toy, he makes a beeline for it.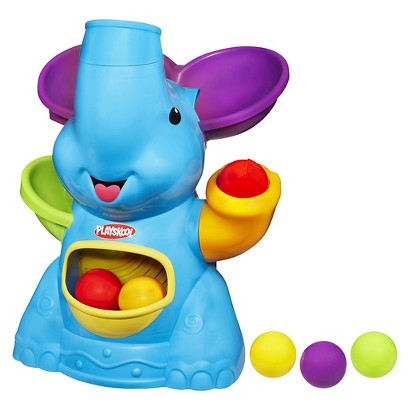 4.
Stacking cups/shape sorter
. Lucan still loves playing with this toy. I think it gives him a thrill to get everything in the right place. It's also a good way to practice learning shapes and colors. Stacking allows Lucan to work on his spatial coordination.
5.
Mega Bloks
! This is a timeless gift that will engage kids for hours. Lucan loves building towers and knocking them down to the ground. That might just be a boy thing
J
Mega Bloks are great because they are large enough for toddler fingers to work with them easily.
6.
Musical instrument set
. Because every child should have the opportunity to make music and irritate their parents at the same time
J
7.
A
swing
. Not a baby swing, but a real life swing. I wish we had a place at our house for one because Lucan loves swinging and we would probably spend a majority of our time outside swinging if he couls.
8.
Push/ride-on-toys.
We have a tricycle that we borrowed from a friend and Lucan loves playing on it. I love that it has a handle, so we can push him around. Now if only we had more sidewalks and ones that didn't end by running into a hedge … Daycare had this particular toy and Lu enjoyed it immensely.
9.
Singing stuffed animal.
My aunt gave Lucan a version of this for his first Christmas and he still enjoys hugging the puppy and singing along with it. Kind of adorable.
10.
Kitchen items.
Lucan's friend Bridget has this musical teapot. If he wasn't playing with her ball popper, he was pouring tea for everyone. Lu also has a mini kitchen for him to concoct creations as well as a mixer. What can I say, momma is a foodie!