My latest and greatest obsession are the shows on PBS, specifically "Masterpiece Theater." I suppose once you've ditched Direct TV, PBS is the best one can do. Besides, I like to think that all the cool kids are watching PBS these days. I mean, don't I sound more sophisticated and smarter when in casual conversation I mention to you that my favorite programs are on PBS (and I'm not talking about Clifford, the Big Red Dog either)?
Saturday morning, 11:30 AM: "Martha Stewart's Cooking School." Last Saturday Lance I learned the proper way to make scrambled eggs. Turns out neither one of us knew what we were doing. And we weren't properly boiling hard boiled eggs too.
My latest love affair is with Sunday evening's "Masterpiece Theater. It all started off with "Downton Abbey." If you haven't watched it yet, get out from that rock you've been hiding under!
Look at the lovelies of Downton.
How could you not love Maggie Smith? She's got some of the best one-liners of the show! I'm looking forward to the Jan 6, 2013 start of Season 3. If you are having a hard time getting ahold of the first two seasons, check out your local library. Because it's PBS, so it's education, so they carry it :)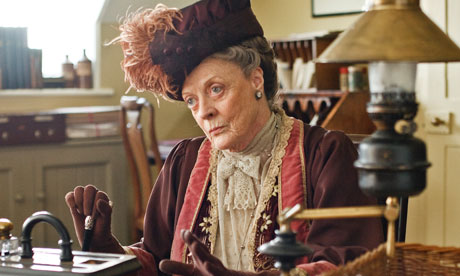 I'm also watching "Call the Midwife" too. But there are a few too many images of women giving birth which are a bit traumatizing and bring back scary memories. Def stick to "Downton Abby", less scary.
Currently on M.P.T (Masterpiece Theater for all you cool kids), is the show "Upstairs Downstairs." This show is a updated version of the original dating back to 1971. I'm enjoying it. It's about the lives of the servants "downstairs" and their masters "upstairs." It's fun. It is set right before WWII, so there's the chance that I could get Lance to watch it with me. He's such a WWII geek.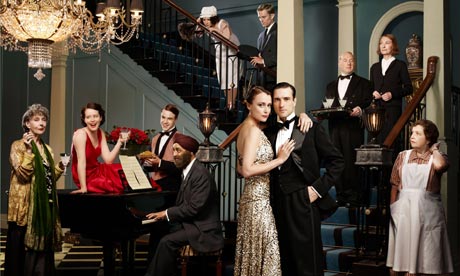 PBS is the place to be. Eat that Mitt Romney.